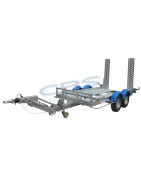 Tippers and low-loader Trailers
Our range of tippers and low-loader is constantly changing, please do not hesitate to contact us.
Our tippers in galvanized steel will allow you to remove all your waste with just one cylinder.
Our plant trailer with adjustable or fixed shafts with 4 points of rigging are designed to transport mini excavators, compactors and rollers.
Active filters
Gross weight (kg): 2500 