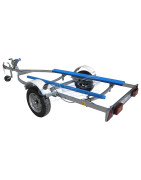 JET SKI SADDLE TRAILERS
These type of CBS personal watercraft are made for the differents models of jet-ski with differents size and weight. We manufacture all models with an unmatched precision and quality because we use new technologies such as laser cutting and folding with numerical control.All welded connections are made with a welding robot and all the tubes are made in France.
Sorry for the inconvenience.
Search again what you are looking for