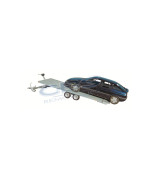 Car transporter trailer
A series of trailers dedicated to transport cars
Why to choose our car transporter range?
We propose to you two types of trailers for the transport of your vehicles which all are equipped with axles Alko or Knott:
Either of the carry-cars made up of two rails, with the wheels outside the plate. On these standard models of many options are possible like the hydraulic swing, the winch of electric or manual towing, and the full floor. Or, the carry-cars with a metal floor expanded with the wheels under the plate (chassis welded frame). These models are sold of series with the hydraulic swing as well as the winch of towing and the back ramp.
Active filters
Gross weight (kg): 3200 